World's First company to introduce Termiticide Solution
Termites can be devastating to your business, your property, reputation and profitability. Once it enters a premise, it is very hard to eradicate.
The Subterranean Termites are the number one enemy to wooden structures. They primarily feed on wood which compromises their integrity and structures. This leads to destruction that costs a lot of money for doing replacements or conducting repairs.
Termite attacks are subtle, often going undetected for many years. Over time, they can cause serious damage.
TerminixSIS offers proven commercial and residential termite control strategies that help you eliminate termites from your property and protect it from future infestations.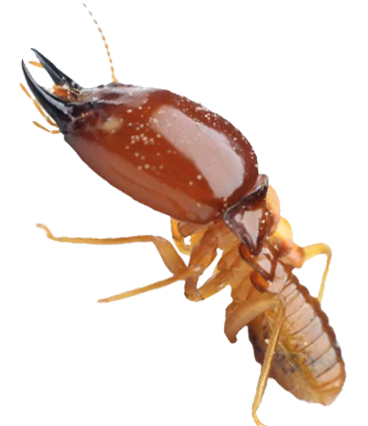 We follow a
4-step Termite Eradication Process –

Termin-X
Professional Inspection
The site Inspection can have two approaches.
Corrective:
The site already has termite infestations.
Preventive:
To avoid the probable termite infestation on the site.
Based on either of the goals mentioned above, we start our site audit process. The scope of work is defined based on the observations of the initial audit and the infestation level (if any). This process helps us in planning the execution roadmap.
Consultation and Recommendations
Based on the observations of the first step, our experts recommend you the most apt and efficient solutions to resolve the termite issues. We implement our advanced PPC™ process, which includes the usage of CIB and RC approved termiticides.
Customised Subterranean Termite Control
Program – PPC™
Pierce
Subterranean Termites are hidden invaders. Hence the application of termiticides at strategic locations is imperative for their removal. Pierce involves strategically drilling the infestation zones to facilitate termiticide application.
---
Pour
Pouring is the next step where we infuse the right termiticide in the zones drilled in during piercing. We use non-repellent termiticides that ensure more termites are exposed to the treated areas. Further, the exposed termites transfer the toxicant to the other nestmates causing indirect mortality.
---
Caulk
In this final step, all the drilled holes are sealed to prevent chemicals spillage and keep the treatment efficacy intact.
Monitoring
Monitoring is a detailed inspection process of the treated areas where observations are made at regular intervals to ensure no further infestation of termites.
Industry-Ready Professional Solutions
TerminixSIS caters to the needs of different industries battling pest invasion with our end-to-end solutions. We understand our customer requirements, perform a site audit and offer customised solutions. Our innovative solutions executed by our team of trained professionals ensure pest-free premises.