It is not just Sanitization;
it is Eradication of Pathogens
COVID-19 taught us the importance of disinfection. Disinfection is a process that aims at eliminating pathogens present on the surface of objects.
Disinfection is not a one-time task but a periodic activity to ensure the safety of you and your loved ones.
With the current circumstances of the COVID-19 pandemic, every business is looking to give a 100% safe environment to all its employees and stakeholders. TerminixSIS stands to be your trusted Business Continuity Program (BCP) partner.
Our Disinfect-X Service is carried out by professionals/technicians who are trained by WHO certified trainers. We provide a customised infection control program aligned with CDC, NCDC and in adherence to other regulatory bodies.
We at TerminixSIS are ready to help you restart and succeed.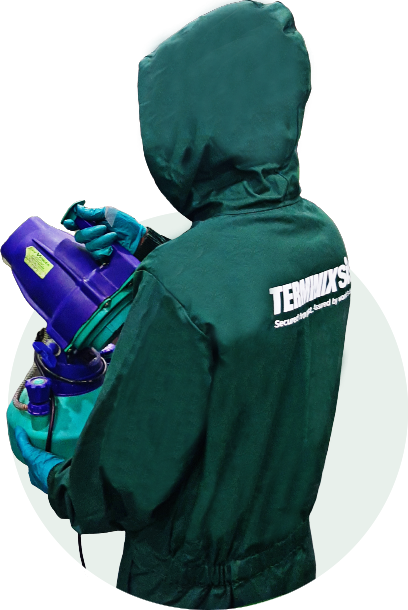 Why Choose Us:
Our treatment uses a commercial-grade disinfectant that is

EPA-approved

and part of List-N; effective against known coronaviruses and many pathogens, including harmful viruses and bacteria.

Service professionals trained by Senior Technical Team that have WHO certification.

Our aerial disinfection and surface disinfection of high-touch points provides you with safe and secure workplace assurance.

TerminixSIS offers an enhanced Infection Control program for vehicles as well to avoid cross-contamination.
We follow a
3-step process

to ensure that the dis-infection is perfectly executed
Client Requirements
As soon as a service call is received, the dedicated professional team gets in touch with the client to understand the dis-infection requirement in detail. Based on the inputs received from the client, a customised infection control program is designed fulfilling the clients' requirements.
Precaution
We share Do's and Dont's with the client before the service initiation. The service execution team follows stringent protocols and the mandatory usage of PPE kits that ensure the safety of both our and your team members.
Execution
We use commercial-grade disinfectants that are EPA-approved and part of List-N Disinfectants effective against the Coronavirus. The service execution team advises on adherence of dwell time post-application of disinfectant to ensure the efficacy of the service.
Aerial Disinfection
It is also known as spatial disinfection, where charged particles are released into the surroundings. These particles kill the pathogens present in the air and ensure disinfection of less accessible touchpoints.
Surface Disinfection
It is the process where we disinfect critical surfaces using the appropriate disinfectants. The process is carried out for frequently touched surfaces in common areas, such as railings, doorknobs, switches, lift/elevator panels, etc.
Industry-Ready Professional Solutions
TerminixSIS caters to the needs of different industries battling pest invasion with our end-to-end solutions. We understand our customer requirements, perform a site audit and offer customised solutions. Our innovative solutions executed by our team of trained professionals ensure pest-free premises.